The GLAN initiative is rolled out in a community by a community group or a collection of community groups. GLAN can be tailored to each community – it is the community group that decides how best to roll out the initiative in their own local area.
Businesses are given a list of pledges to choose from, of which they will choose a minimum of 3 to implement. The pledge list can be tailored for different business sectors as well as individual communities. Additional pledges can be added each year. For example, pledges might involve an action to reduce single use plastic use – such as a business changing to paper straws or even simply bringing the straws behind the counter to be asked for.
To support the work of businesses willing to make pledges there will be promotional material produced, including a GLAN sticker for their window. Individualised stickers are produced for each community. For example: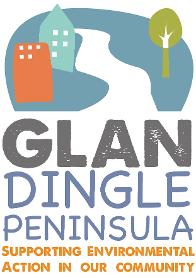 This is particularly effective for businesses – as the public can see participation. Participation in the GLAN initiative can increase customer support, as has been proven with businesses currently taking part.
The group responsible for rolling out GLAN in their community ensures that they are following current Data Protection protocol and they administer the paper work generated.