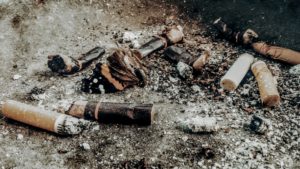 Cigarette butts account for over 50% of all litter found on the streets of towns and cities across Ireland. During regular town clean-ups, GLAN Tralee became increasingly aware of this issue, promoting them to approach Institute of Technology Tralee to discuss the possibly of collaborating with them on a research project. The idea was met with a positive response and took place during October/November 2018.
The projects main aims were to, identify cigarette litter 'hot spots'  and the 'attitudes and behaviour' of smokers in regards to cigarette litter. These surveys was undertaken in collaboration with IT Tralee BA in Information Systems Management Students, Tralee Chamber Alliance, Team Bramble, Kerry County Council and Clean Coasts.
The results were stark, with 89% saying they had left a cigarette butt on the ground. The survey found the top reasons being, That 'There were no bins nearby' and it was 'Just a habit'. Most of the smokers surveyed also knew that cigarette butts where toxic and a form of litter. In contrast over 60% did not realize that cigarette butts thrown in our towns can end up in the ocean and are harmful to marine life.
Over 80% of smokers said more cigarette bins would combat the issues, with 60% saying an awareness campaign about the damage cigarette butts cause would help to tackle the problem.
The survey promoted the purchase and installation of cigarette litter bins, to be erected in strategic places as advised by the survey of smokers. These bins will be part-funded and emptied by businesses.
An awareness-raising campaign was also launched about the environmental damage caused by cigarette litter in both traditional media and on social media coverage. Messages explaining the environmental damage caused by butts will be designed for the cigarette bins.